Hyperbaric Oxygen Therapy
Our bodies need oxygen to heal. Hyperbaric Oxygen Therapy Hyperbaric oxygen therapy (HBOT) is a treatment that increases the amount of oxygen blood cells can carry. It has been used for more than 70 years to improve healing in tissues deprived of oxygen.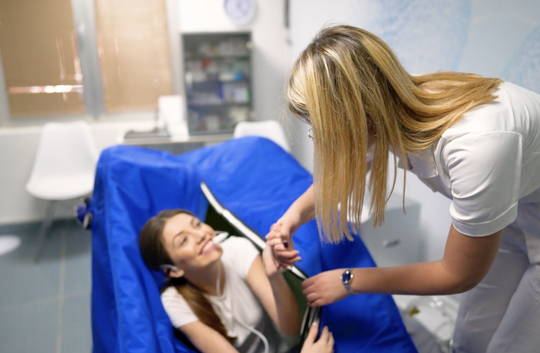 Facts About Hyperbaric Oxygen Therapy
Hyperbaric Oxygen Therapy (HBOT) is not a new therapy. It was used at in the 1940's to treat deep-sea divers with decompression sickness in the Navy. By the 1960's HBOT was also used to treat carbon monoxide poisoning. HBOT is still used today to treat for carbon monoxide poisoning for fire fighter and miners. HBOT has grown in it's uses to now include over a dozen conditions ranging from burns to bone disease, including:
Chronic infections
Cyanide poisoning
Crush injuries
Burns
Long Haulers Covid
Radiation Burns
Anemia
Wounds
Brain Trauma - Concussions
Inflammation
Improved Athletic Recovery
Has shown improvement in anxiety
Faster healing from surgeries
Improves collagen production
Anti-aging effects
Oxygen is the necessary requirement to make ATP, or energy for any process within the human body. It is the final electron acceptor in the Electron Transport Chain. As cells receive more oxygen through hyperbaric treatments, they create more energy, regenerating and strengthening, resolving many health conditions and complaints. Not only that, but it increases the flow of all bodily fluids, improving blood flow, cerebrospinal fluid flow, lymphatic flow (aiding in detoxification), stem cell activation within the brain and many other benefits. This non-invasive therapy is the easiest way for our body to uptake oxygen to tissues and organs that are not able to absorb enough oxygen. It is shown to increase penetration of oxygen 400% deeper into our tissues and organs in comparison with our typical blood supply. Other incredible features of this treatment is that it reduces inflammation, destroys bacteria and increases white blood cell/stem cell production. Mild Hyperbaric Oxygen Therapy (mHBOT) creates substantial, expedited healing for acute and chronic Neurological conditions, Developmental Disorders (ADHD/Autism), Brain injury/Concussion, Autoimmune conditions, Lyme Disease, Migraines, Headaches, Musculoskeletal and athletic injuries, Athletic recovery, Post-surgical healing, Stress, Anxiety, Depression, Wellness and more. Research has proven that treatment is cumulative and is recommended at 60-90 minutes over 40-80 treatments for optimal results. This may seem like a lot, but is essential for rebuilding infrastructure, cellular health and creating neuroplasticity. Our goal is to keep our price affordable for patients with treatments costing $45 for a single session. We also have packages that bring the cost down even more.
What to Expect During Your Session
After filling out paper work you will be taken to your chamber. You will be instructed to take off your shoes and anything that may be uncomfortable. ie jacket or hat. You will then step into the chamber and sit lay down. We will hand you a nasal cannula that will deliver oxygen into your nose. You will put the nasal cannula on by putting the prongs into your nostril and the loop around each ear. You will be instructed to clear your ears when the pressure builds inside the chamber, usually after ten minutes. We will then zip the zippers that seal the chamber and begin pressurizing the chamber. The session is an hour and twenty minutes allowing ten minutes to pressurize the chamber and ten minutes to decompress the chamber. During the session you can nap, watch a movie, do work on your phone etc. At the end of your session you will be instructed that we are decompressing the chamber and you may need to clear your ears again at that time. When the chamber has depressurized we will unzip the zippers and assist you in stepping out of the chamber.
Delivers 95%+ Oxygen from Drive Medicals FDA Approved 10 LPM Oxygen Generator under pressure and optionally via a facemask or nasal cannula.
89 inches long by 39 inches tall by 32 inches wide providing plenty of room for comfort and to be able to move around.
Seams are Triple and Penta welded and be assured that no toxic glues are used.
Four Transparent viewport windows (2 on each side) allow for ambient light and monitoring from multiple viewpoints.
Our unique system prevents carbon dioxide build-up by exhausting the carbon dioxide through the pressure relief valves.
Our Compressor and Oxygen generator filtrates pollutants down to the micron level.
Includes an emergency pressure relief valve for internal user use on the chamber to speed the depressurization in case of emergency.
Delivers safe and effective Oxygen sessions at 1.3 ATA (32 KPA 4.3 PSI) or 1.4 ATA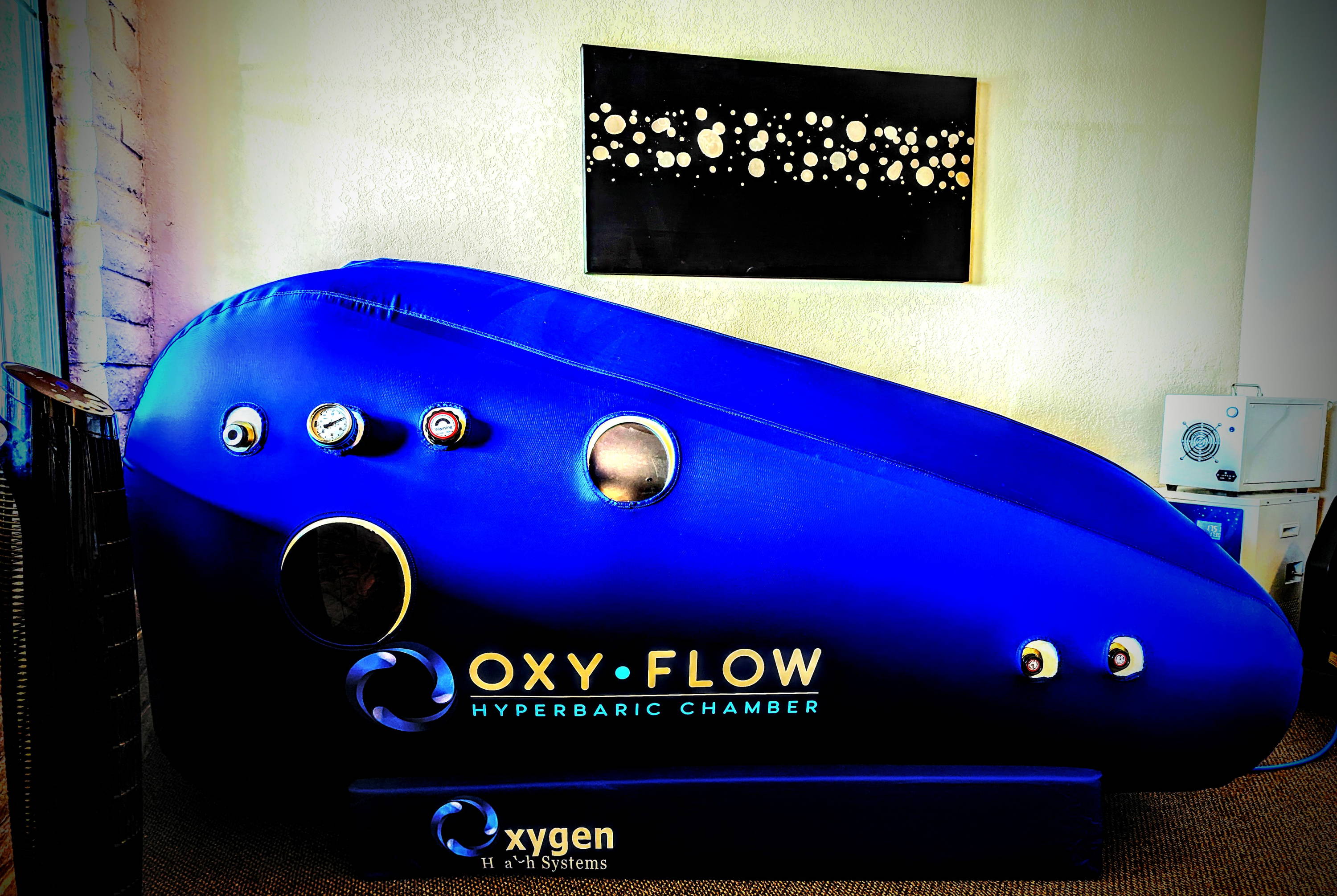 An internal pressure gauge is equipped so the user can observe the pressure while inside the chamber. The unit has both internal and external pressure gauges.
Our seams are heat welded – So absolutely no toxic glues are used.
Our materials are extensively tested and certified non-toxic medical grade and food grade extra strength 44 oz. TPU is embodied with a PET polyester material (Used for years by NASA in space suits) and protected by an extremely durable and resistant outer coating. Phthalate Free!
Negative ION UNIT to enhance treatment. This option allows customers to receive pure oxygen-containing negative ions, further promoting the body's self-renewal process; enhancing the vitality of immune cells.
Includes Attendant Buzzer - Alerts attendant for assistance.
Our Air Conditioning system ensures a cool experience when the unit is operated in warmer climate areas or over extended periods of time.
We're passionate about helping you feel your best. Less pain, better sleep, more energy, and looking your best
Check Out Our Other Services
Real reviews from real customers
I always have a great experience here. Everything is prepped and ready when I come in. Everyone is kind and I always enjoy seeing the pooches
My adult daughter is physically and cognitively disabled due to car accident at a young age. Kim McCool and staff accommodate her needs and facilitate a positive experience for her.
This was my first time at Auburn Total Health but not my first colonic and I absolutely loved my experience. I would most def recommend to all. Amy answered all my questions and was very nice and funny as well. I live about 35ish mins away and it was well worth the trip. I will be back soon. I also appreciate that the price range was affordable.
Follow us on @auburntotalhealth and use the hashtag #ATHFeelGreat to be featured