PEMF, is a revolutionary wellness modality that utilizes soothing Pulsed Electromagnetic Fields to stimulate and exercise the body's cells. PEMF, also known as High Energy Inductive Therapy, is trusted worldwide to support the body's natural healing and regulating abilities.
On the simplest level, PEMF therapy refers to using magnets to treat illness and maintain health. Both the Earth and the human body naturally produce electromagnetic fields. However, we can also produce dynamic electromagnetic fields using specifically designed technology. Those who practice magnetic field therapy believe that interactions between the human body, the Earth, and other electromagnetic fields can cause both physical and emotional changes in humans. The body's electrical and electromagnetic fields need to be balanced to maintain optimal health.
All energy is electromagnetic in nature, and nothing happens in the body without an electromagnetic exchange between cells. We are all familiar with the electrocardiogram (EKG) and electroencephalograph (EEG) tests, which measure the electromagnetic activity of the heart and brain, respectively. When electromagnetic activity ceases, life ceases. Electromagnetic energy controls our chemistry. Disruption of this energy in cells causes impaired cell metabolism, and if our cells are not healthy, our body is not healthy, in whole or in part.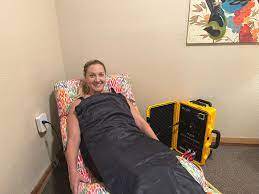 At Auburn Total Health you can experience the power of Pulsed Electromagnetic Field Therapy. Our sessions start with 12 minutes of PEMF therapy in a relaxing environment. During your session you stay fully clothed - although you will be asked to set aside your phone or any other items that may be effected by magnetic energy. ie credit cards smart watch etc.
When we start your session we will ask when you feel the intensity is good with you. Usually after the first few minutes we will return and see if you would like more intensity - most clients adjust after the first few minutes and would like more intensity.
All you do during your session is relax and allow the PEMF to do it's magic.
After your first session you can choose to do more that one session at a time.
We offer packages that brings the cost down to allow you to enjoy the full benefits of PEMF.
Enhances the body's natural recovery process.
Corrects cellular dysfunction throughout the body.
Stimulates and exercises cells to recharge cells.
Gives more energy naturally.
Improves athletic performance.
Reduces inflammation and pain.
Helps you recover from an injury faster.
Check Out Our Other Services
Real reviews from real customers
I always have a great experience here. Everything is prepped and ready when I come in. Everyone is kind and I always enjoy seeing the pooches
My adult daughter is physically and cognitively disabled due to car accident at a young age. Kim McCool and staff accommodate her needs and facilitate a positive experience for her.
This was my first time at Auburn Total Health but not my first colonic and I absolutely loved my experience. I would most def recommend to all. Amy answered all my questions and was very nice and funny as well. I live about 35ish mins away and it was well worth the trip. I will be back soon. I also appreciate that the price range was affordable.
Follow us on @auburntotalhealth and use the hashtag #ATHFeelGreat to be featured